How to Upgrade to Structured Pro
Edited
Structured Pro is the subscription version of Structured. By upgrading to Structured Pro, you will gain access to these additional features:
Calendar import

To-do list import

Recurring tasks

Advanced notifications

Premium icons
---
Upgrade to Structured Pro
To subscribe to Structure Pro, open the ⚙️ Structured Settings and tap on the Structured Pro button. Here, you can select one of three subscription models, depending on your preference.
Monthly: By choosing the monthly subscription, you will be the most flexible. This model is perfect if you are new to Structured and want to test out the Pro version.
Yearly: With the yearly plan, you can save money compared to the monthly version.
Lifetime: By choosing this option, you avoid the hustle of a subscription. You pay once and own the Pro version of Structured forever.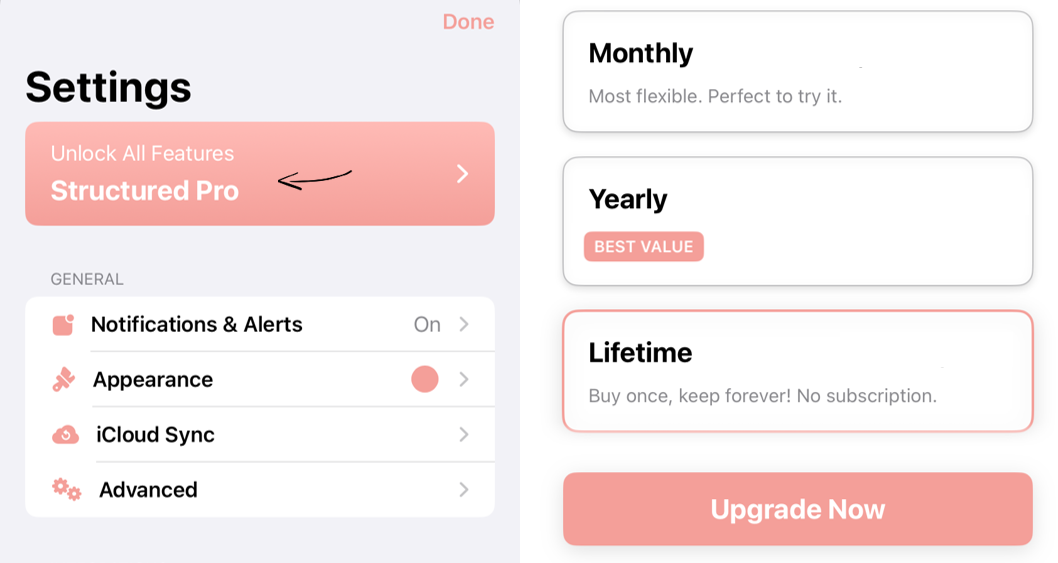 After selecting a subscription model, tap Upgrade Now. You will then be forwarded to the App store for the payment. Structured Pro can be purchased exclusively from the App Store/Google Play Store.
Changing your Structured Pro subscription
If you want to switch from the monthly to the yearly Structured Pro plan, you can easily do so by opening your Settings ⚙️ and using the Manage Subscription button in your Structured Pro page. If you are facing troubles with upgrading to the lifetime purchase, it might be because you have an active monthly or yearly Pro subscription.
Cancel Structured Pro
The monthly and yearly subscriptions can be cancelled at any time, at least 24 hours before the automatic subscription renewal. To cancel your Structured Pro subscription, go into the Structured settings. Here, tap on the first entry that reads Thanks for using Structured Pro. Now use the Manage Subscription button and cancel your subscription in the popup.
Structured Scholarship
We want as many people as possible to benefit from Structured, and we understand that the budget can be tight sometimes. Therefore, we offer Structured Pro at a partial or full scholarship to anyone who cannot afford to buy it at full price. This is not a special offer or promotion, but a way to enable access to Structured Pro for anyone who is in a tough spot financially. As this is only possible because other people support the app by buying Structure Pro, please only use this option if you really are dependent on the scholarship.
To apply for a scholarship, go to your ⚙️ settings and tap on Structured Pro. Here, you can scroll down to the bottom of the page and tap Request Scholarship.