How to Add Your Home Screen Widget
Edited
The Structured home screen widgets provide you with a convenient way to keep track of your tasks without having to open the Structured app. You can choose from a selection of different types of widgets, depending on what helps you to stay organized and what best fits into your home screen.
Add a widget to the home screen
To add a Structured home screen widget, follow these simple steps:
When you are on your home Screen, touch and hold a widget or an empty area until the apps jiggle.

Tap the plus symbol in the upper-left corner.

Select Structured from the list of apps, choose a widget, and tap Add Widget.

Tap Done.

Widget types
With the update to Structured 3.2 you get access to a variety of different home screen widgets:
The Timeline Widget displays your timeline of the current day, including your all-day tasks. With the Inbox Widget, you can get an overview of the tasks that await you in your inbox. Both the timeline and the inbox widget come in three different sizes.
With the Single Task Widget, you can see only your current task. Another version of this widget is the Sub Task Widget, which also displays every subtask of your current task.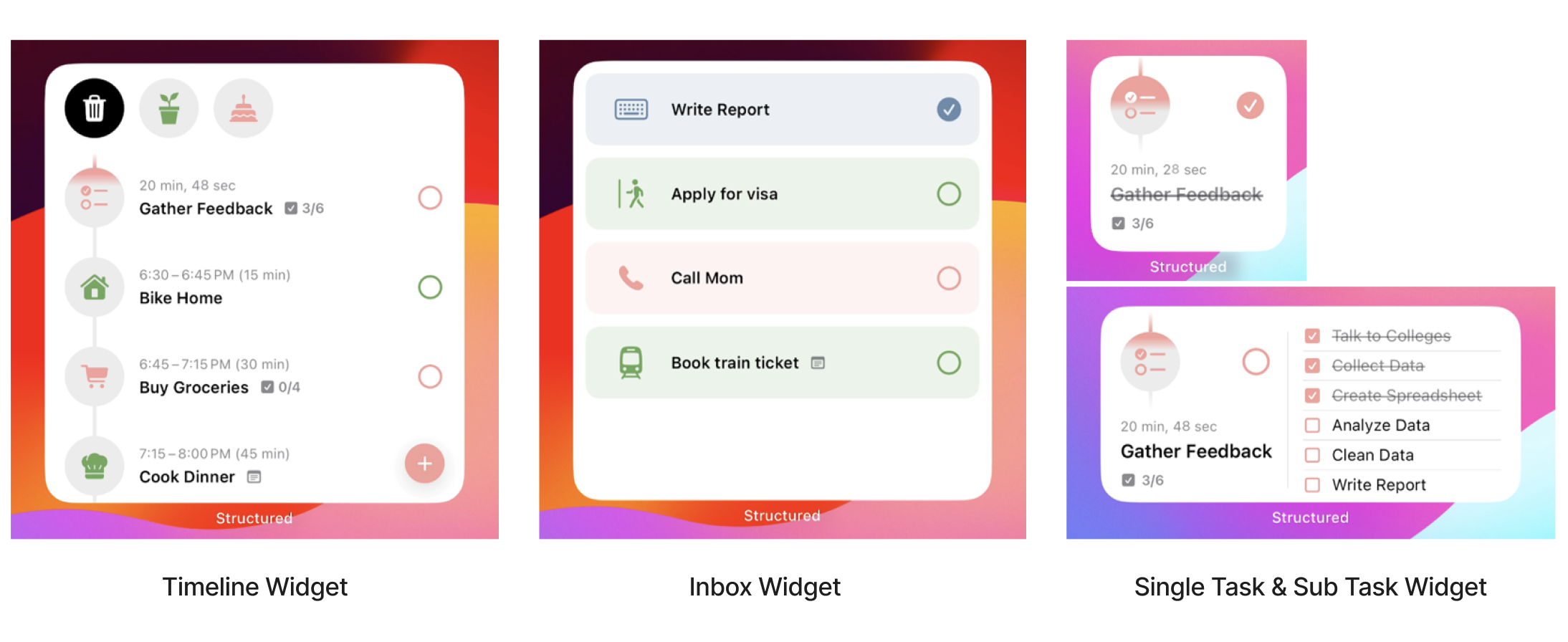 Please note that the Inbox Widget and the Subtask Widget are only available for iOS 17.
Interactive widgets
If you are using Structured 3.2 on a device with iOS 17, you can interact with your widgets. This means that you can check off tasks (and subtasks) from your timeline or inbox without having to open the app. Simply tap on the checkmark next to a task on your widget to complete it.
Note that this only works for the larger widgets, as on smaller widgets the check mark is not displayed. Here, tapping the tittle of the task will toggle the task. Tapping on the icon will open the task in the app.
Edit & remove widgets
To edit a home screen widget, tap and hold the widget for one second, then tap on Edit Widget. For the Timeline Widget, you can decide whether you want it to display your all-day tasks and if you want the plus sign in the lower-right corner to be displayed. When editing the Inbox Widget, you can reorder your tasks.
Please note, that customizing widgets is only available for iOS 17.
To remove a widget from the home screen, tap and hold it for one second, then select Remove widget. Alternatively, hold the widget for two seconds and tap on the minus sign in the upper-left corner of the widget.

Issues with Widgets
Since the release of iOS 17, unfortunately there have been some issues with widgets. If you are also experiencing issues, take a look at the following articles:
My widget does not show any task