How to Customize Notifications
Edited
Notifications can help you to stay on track and remember important tasks. At the same time, sometimes it is important to silence notifications to avoid getting distracted by them. That's why in Structured you are in full control of your notifications and can decide when you want to be reminded of what.
To dive into the customization of Structured notifications, they must be enabled first on your device. Learn how to do this over here: How to Enable Notifications & Alerts. All notification customizations you make will be synchronized across all of your devices.
Notification sound
To change the sound of your notifications, open the Notifications & Alerts menu in the ⚙️ Structured Settings and tap on Sounds. Here, you can choose from over 20 different notification sounds. Simply tap on the name of a sound to hear a preview of it.
Ensure your device is unmuted and your device's notifications are not silenced for Structured.
Notification timing
The next step in setting up your custom notifications is deciding on when you want to be alerted about a task. The default alerts are: At the start of a task, at the end of a task, and 5 minutes before a task starts. You can eliminate any of these alerts by tapping the ✖️ on the right.
If you wish to be notified of an upcoming task more than 5 minutes ahead, you can also add to this list by tapping Add Another Alert. Here, you can set a time and then tap Add Alert. Please be aware that you cannot set an alert for more than 3 hours before a task begins.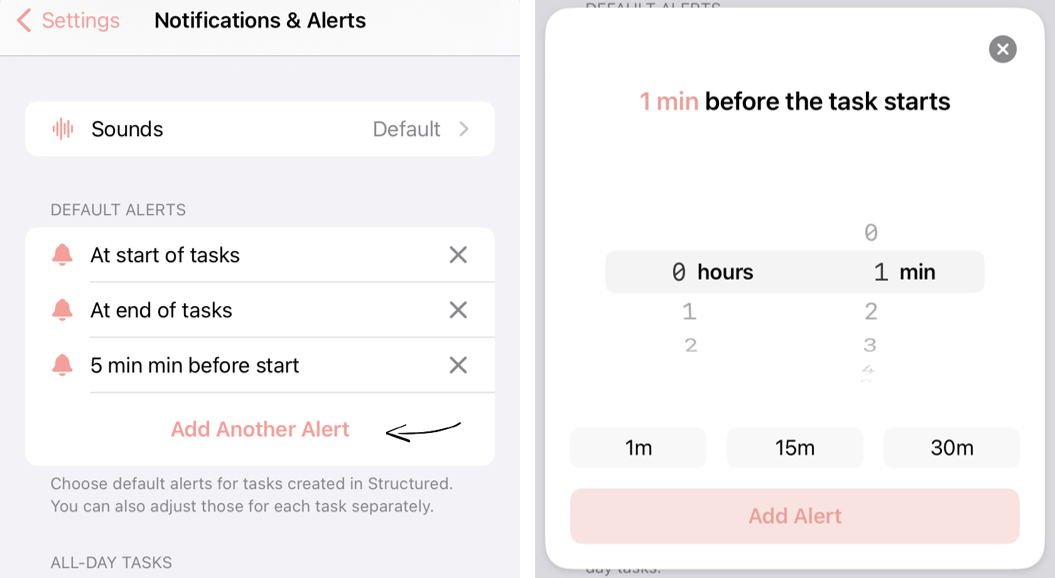 You can also change the time point of a notification for each task individually, or switch off the alerts completely for a single task. You can do this by tapping on a task and selecting Edit Task. Be aware that after changing the alerts for an individual task, it won't be affected by changes to the default notifications anymore.
Since all-day tasks don't begin at a specific time, you can choose when you want to be reminded of them. The default setting for all-day task is a reminder at 8:00 am on the day of the task. However, just like for normal tasks you can add a different alert and also adjust it for every task individually.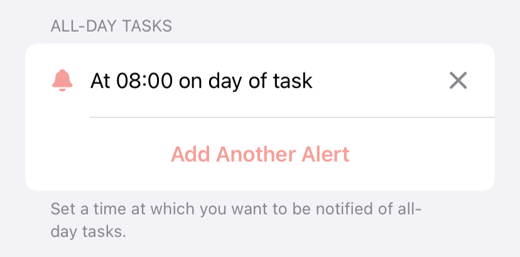 Notifications for imported tasks
If you integrated a calendar or to-do list into Structured, you cannot customize them in Structured, but can decide whether you want to be reminded of the imported tasks.
Open Notifications & alerts in the ⚙️ Structured Settings. Here you can enable notifications for calendar events and Reminders tasks separately. The time point of the notification for imported calendar events will be the one you have set in your calendar app.
Notifications on Apple Watch
Some smartwatches or accessories don't display the titles of notifications. Therefore, you might not see the names of your tasks on your Structured smartwatch alerts. If you experience this problem, open Notifications & Alerts in the ⚙️ Structured Settings and enable Only use notification body. This way you will always see which task is coming up.
Device settings
You can further customize your Structured notifications by changing the notification settings of your device. Open Notifications & alerts in the ⚙️ Structured Settings and tap on Open System Settings to get straight to the relevant section.
Here you can choose where on your screen the Structured notifications will appear and how they will look. You can also disable their sound. If you want the Structured notifications to break through focuses, you can enable Time-Sensitive Notifications.
---
---
---
Please note that these are premium features that require ⭐️ Structured Pro.
---