How to Use Task Icons
Edited
Structured has a growing library of over 550 icons, which you can use to categorize your tasks and make them recognizable at a glance.
Finding the right icon
Whenever you create a task, Structured will automatically assign an icon to it using machine learning. If you are not satisfied with the choice, you can just tap on the icon next to your task's title and choose an icon of your own.
The icons in the list are divided into categories that you can see in the bar at the bottom of the page. The first two categories contain the icons that are suggested by Structured based on the task's title and the icons that you have used recently. You can also type something into the search bar at the top to find the perfect icon for your task.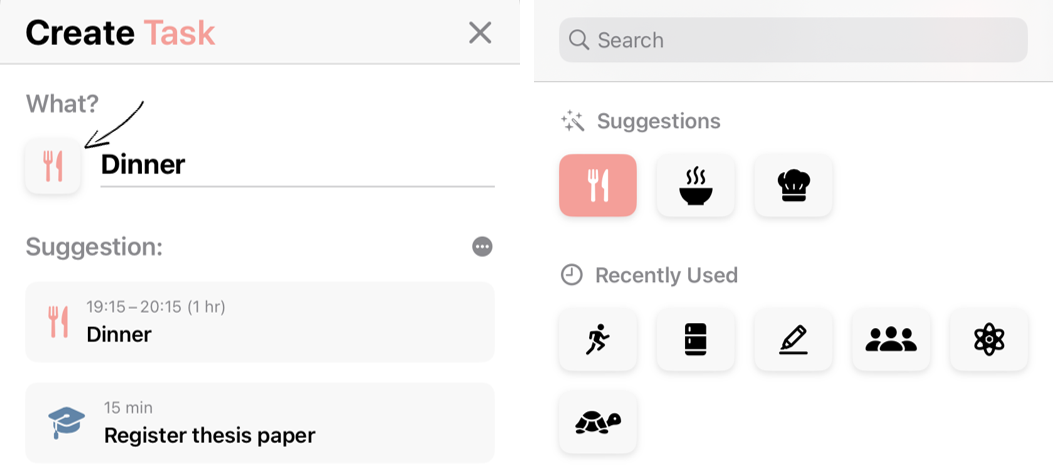 Icons for imported tasks
If you import a task from a calendar or to-do list app, Structured will automatically choose an icon for it. You cannot assign a default icon for every imported task, but of course you can change the icon after the import.
Smart icons
The machine learning algorithm that chooses the icons for your tasks is constantly learning. You can help improve the selection process of the icons by sharing the titles of your tasks and the icons you have chosen for them with us.
To use this function, go into the ⚙️ Structured Settings and open the Analytics section. Here, you can enable or disable Improve Smart Icons. This data will of course be completely anonymous and will only be used for the improvement of the algorithm.